Today I came up with the brilliant idea of counting the number of ass cracks I saw while out and about.. after all, there ARE a lot of them wandering around.
Between the rapper wannabes and guys who just don't know how to find the right fit, I counted twelve in two hours.
SHOWING YOUR ASS DOES NOT MAKE YOU STYLISH. IT SHOWS OFF YOUR INABILITY TO DRESS YOURSELF.
My god, this irks me.
Don't get me wrong.. I like baggy pants. But it's pretty rediculous when the crotch hangs down to your knees.
* * * * *
Uh oh, I did another quiz.. and it shows that I'm an attention whore. If you've got the time, you should try it out too.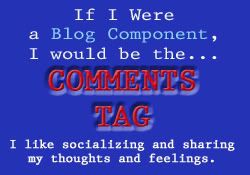 If I Were a Blog Component,
I would be the COMMENTS TAG.
I like socializing and sharing my thoughts and feelings. Which Blog Component Are You?
Take This Blog Quiz at About Web Logs!